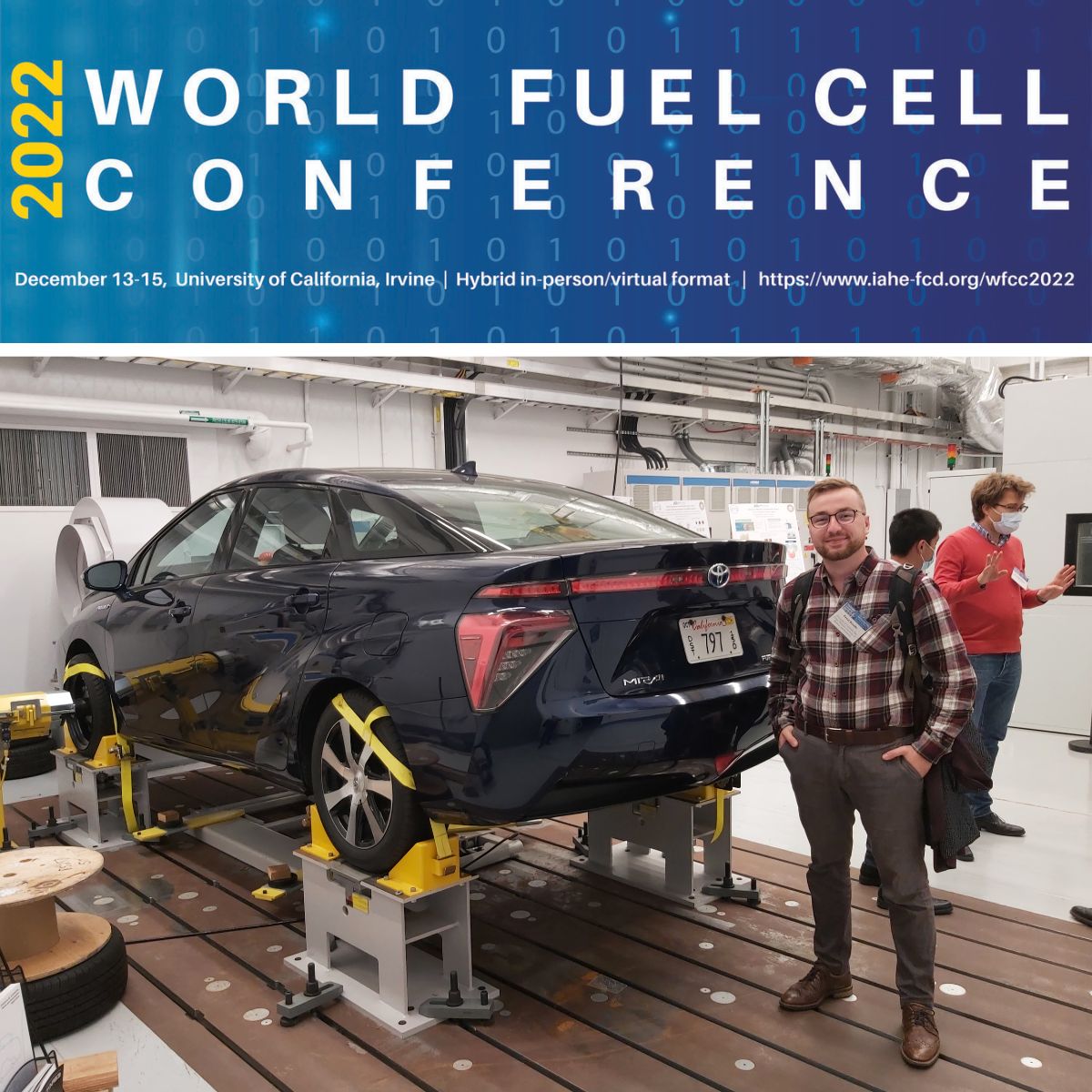 PRESENTATION AT THE WORLD FUEL CELL CONFERENCE 2022 – A FEW WORDS ABOUT THE POLICY FOR THE FCEV MARKET DEVELOPMENT IN CALIFORNIA.
Can hydrogen be the fuel of the future?​
In my opinion, definitely yes! Hydrogen technologies and fuel cells can impact the dynamics of the transformation process of the transportation sector in many regions of the world. In California, state and federal governments have been working together to develop zero-emission vehicle markets for over 20 years. A unique role in this process (supported by implementing further ambitious strategies and projects) is played by activities aimed at popularizing hydrogen-powered fuel cell electric vehicles (FCEVs).
As part of this year's World Fuel Cell Conference at the University of California Irvine, I had the extraordinary honor of presenting the preliminary results of my research on evaluating these activities, especially by state authorities. My analysis, using, among others, structured interviews, is carried out as part of the Fulbright-Schuman award in research cooperation and under the supervision of prof. David G. Victor and Dr. Ryan Hann.
My participation in this scientific event was possible thanks to the support of prof. dr hab. Andrzej Graczyk, Dean of the Faculty of Economics and Finance of the Wrocław University of Economics. I am proud that I could represent the Wrocław University of Economics and the University of California in San Diego at this unique event!
W ramach tegorocznej World Fuel Cell Conference na Uniwersytecie Kalifornijskim w Irvine miałem niezwykły zaszczyt zaprezentować wstępne wyniki moich badań dotyczących ewaluacji tychże działań podejmowanych szczególnie przez władze stanowe. Moje badania, z wykorzystaniem m. in. wywiadów strukturyzowanych, są realizowane w ramach nagrody Fulbright-Schuman we współpracy badawczej i pod kierunkiem prof. Davida G. Victora i Dr. Ryana Hanna. 
Mój udział w tym naukowym wydarzeniu był możliwy dzięki wsparciu prof. dr hab. Andrzeja Graczyka, Dziekana Wydziału Ekonomii i Finansów Uniwersytetu Ekonomicznego we Wrocławiu. Jestem dumny, że mogłem reprezentować Uniwersytet Ekonomiczny we Wrocławiu i Uniwersytet Kalifornijski w San Diego na tym wyjątkowym wydarzeniu!